STUDS
Interior Framing non-load baring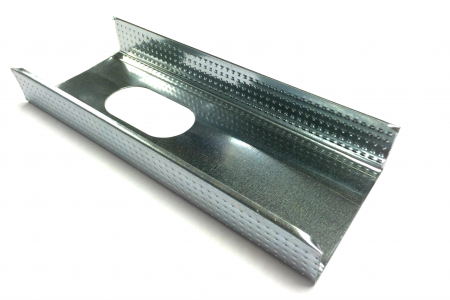 Interior studs are used in nonload-bearing (nonstructural) interior wall systems or partitions that support gypsum wallboard construction. 
Web widths: 1-5/8″, 2-1/2″, 3-5/8″, 4″, & 6″

Flange: 1-1/4″

Lip: Varies by stud size

Coatings: G40 (G60 and G90 available as special order)

Stock lenghts: 8′ and 10′. Custom lenghts are available as special order
ASTM: A653
The SFIA Code Compliance Certification Program for Structural and Nonstructural Framing Members, gives builders and suppliers the assurance that the cold-formed steel products they purchase from SFIA members meet the highest standards of quality and the latest provisions of the building codes.
To ensure the integrity of the certification, the program is administered by a recognized independent third party, Intertek, who periodically performs unannounced visits the member plants and audits individual products.  Both structural and nonstructural stud and track products are tested for their mechanical properties, coatings, dimensions, and labels.