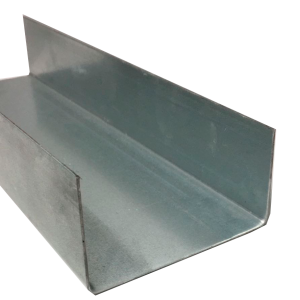 U-shaped channel runners used as the top and bottom tracks to secure wall studs or end support closures for floor joist framing. Structural track is also used as end support closures for joists at exterior or foundation walls, head and sill plates of wall openings and solid blocking. Track is normally ordered in corresponding size and gauge to the wall studs. Longer leg track is used for deflection conditions or to accommodate uneven or inconsistent floor or ceiling conditions.
Standard Web Size: 3-1/2", 3-5/8", 4", 5-1/2", 6" and 8"

Leg heights:1-1/4", 1-1/2" and 2"

Thickness: 33 mils (20ga), 43 mils (18ga), 54 mils (16ga) framing products are produced with 33ksi steel. 54mil (16ga) products are produced with 50ksi steel unless otherwise noted.

Standard coating: CP60 (G90 available)
ASTM & CODE STANDARDS:
Structural framing is produced to meet or exceed ASTM C955
ASTM C955 section 3.2.2 "structural member -a member in a steel framed system in which the loading exceeds any of the following conditions: a transverse load of 20 lbf/ft of member length, or an axial load, exclusive of sheathing, of 200 lbf per member."
C955 also sets minimum material thickness of 0.0329".