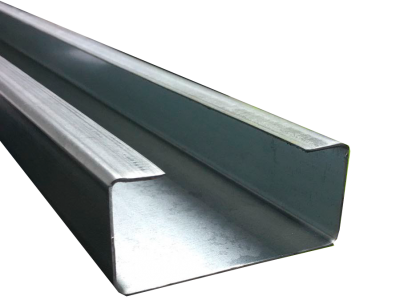 Clar company offers a full line of structural framing members available in  16, 18 and 20 gauges. Our line of studs and track systems are ASTM.
Standard Web Size: 3-1/2", 3-5/8", 4", 5-1/2", 6" and 8"

Flange Sizes: 1-5/8", 2" and 2-1/2"

Thickness: 33 mils (20ga), 43 mils (18ga), 54 mils (16ga), 

33mil (20ga) and 43mil (18ga) framing products are produced with 33ksi steel. 

54mil (16ga) products are produced with 50ksi steel unless otherwise noted.

Standard coating: G60(G90 available)

All studs are color coded for easy identification.
S162 members have a 1-5/8″ flange and a 1/2″ return and are considered the industry standard. S162 members are preferred for most curtain wall applications. They also provide the vertical strength necessary for demanding load-bearing structural applications and sufficient strength for many joist applications.
S200 members a 2″ wide flange and a 5/8″ return that provides a larger bearing surface for attaching sub-flooring or sheathing materials. This framing member is also used in axial load-bearing wall assemblies.
S250  members have a 2-1/2″ wide flange and a 5/8″ return and are used in floor joist assemblies and heavy loading conditions.